We've upgraded to a new site & platform - yay!
Having trouble signing in? Reset your password here or email support@thebookdrop.com
Jigsaw Puzzles
Receive one surprise jigsaw puzzle each month!
Select from 500 or 1,000 pieces.
Ships the first week of every month.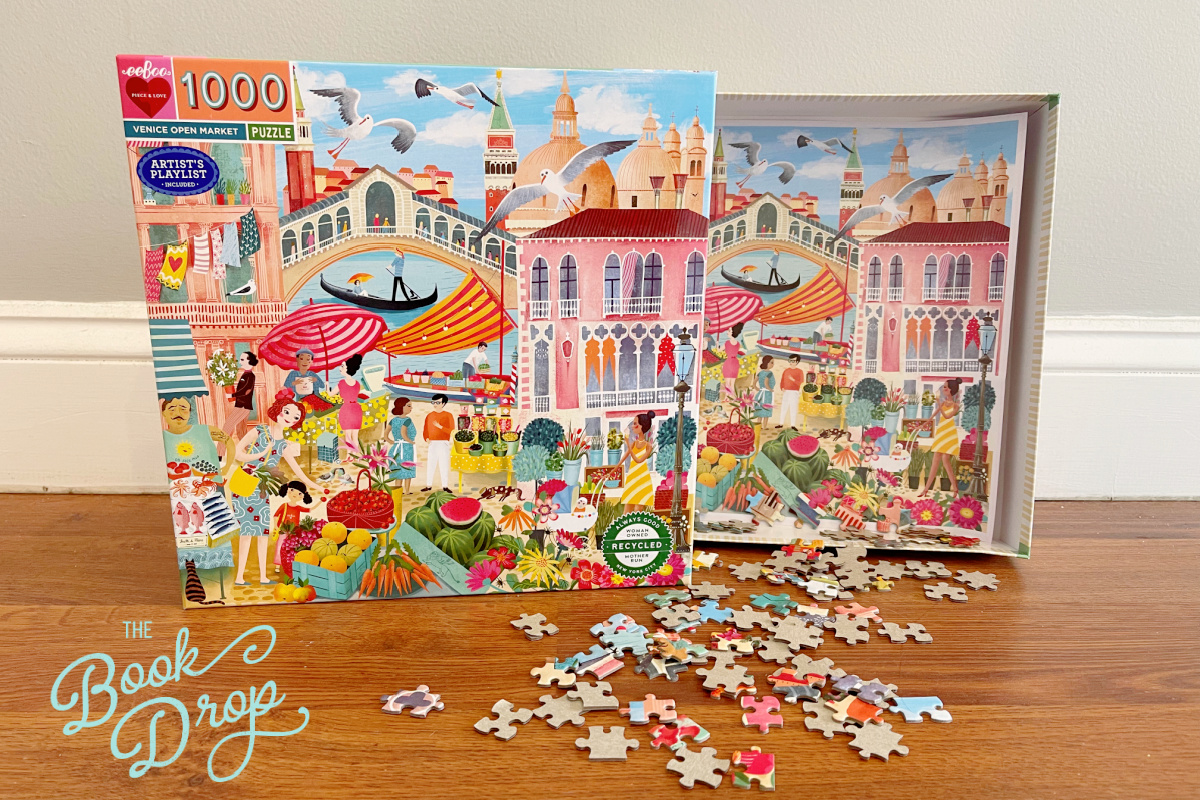 Each month we share our favorite 500-550 and 1,000 piece jigsaw puzzles. Themes are different every month. We feature everything from beach/coastal designs due to our proximity to the ocean to National Park maps and wilderness scenes. We never send the same puzzle twice!

Puzzles are appropriate for the entire family to work on together.
Every month subscribers receive
✓ One surprise boxed jigsaw puzzle wrapped in kraft paper


✓ Complimentary USPS Priority Mail Shipping
✓ Eco-friendly, recyclable packaging
**Please note our puzzles ship the first week of every month
We have many different subscriptions to satisfy any puzzler. 
How often would you like to renew your subscription? We send puzzles once a month but you may choose whether to renew every month, every three months, or every six months.
We ship our puzzle subscriptions the 1st of each month so puzzlers can expect to receive their puzzle the first week of every month!
"Got a subscription for my 88 year old mother who was having trouble getting to the library. She reads books and watches National Public Broadcasting. She has absolutely loved the anticipation of a new book a month and has enjoyed reading the books that have been sent. Thank you very much for bringing joy to my Mom!"
Wanda
Cape May Court House, New Jersey
"I love this book subscription! Love the extra touch of bookmarks, card about book and author, wrapped in tissue paper and magazine with other suggested books for reading!"
Debbie
Sidney, Ohio

"Out of the ordinary subscription box!"
"This has been a wonderful subscription box for book lovers. I was hesitant to subscribe to this box as I have tried a few others and would end up getting duplicate books that I was unable to return. The picks have been amazing so far, and despite having a "to-read" list of 2,000 books, have been books that are new to me. I am very glad I tried this box and look forward to receiving it each time."
Allison
Carmel, Indiana
Frequently Asked Questions
The Book Drop is a surprise monthly book subscription service created by Amanda Zirn Hudson, operational manager & frontlist book-buyer of Bethany Beach Books. We sadly understand that not everyone has a local, independent bookstore near them so our mission is to help bring the independent bookstore to readers. The Book Drop is owned & powered by Bethany Beach Books.
When do you ship subscriptions?
We ship subscriptions between the 16th-21st of each month. Readers will receive tracking via email as soon as we start preparing their mailing.
When will I get my first book?
Our subscriptions ship the same time every month: between the 16th-21st. Subscribe before the 15th of the month & receive your first book that same month. Subscribe after the 15th and your first book will ship the following month. As soon as we start packing your subscription, we send an email with tracking information. All one-time products from our shop ship within 2-3 business days (or on release date for pre-orders).
Will my subscription auto-renew?
All standard subscriptions auto-renew on the 1st of each month. Gift subscriptions are given the choice at checkout whether to auto-renew or not. Subscribers have the ability to skip, pause, or cancel via their Book Drop account.